Taylor Military Museum
Taylor, Michigan
Housed at City Hall Bldg
Hrs. M-W-F, 10a – 4p
Contact: Frank Canning
313 475-9578
[email protected]
www.taylorveteransmuseum.com
---
The Veteran History Project
The Veterans History Project of the American Folklife Center collects, preserves, and makes accessible the personal accounts of American war veterans so that future generations may hear directly from veterans and better understand the realities of war.
The Project collects first-hand accounts of
U.S. Veterans from the following wars: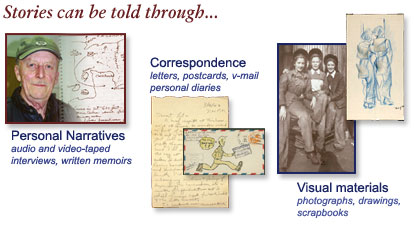 World War, 1914-1918
World War, 1939-1945
Cold War
Korean War, 1950-1953
Vietnam War, 1961-1975
Grenada–History–American Invasion, 1983
Panama–History–American Invasion, 1989
Operation Restore Hope, 1992-1993
Persian Gulf War, 1991
United Nations Operation in Somalia
Haiti–History–American intervention, 1994-1995
Operation Allied Force, 1999
Peacekeeping forces–Bosnia and Hercegovina
Operation Joint Guardian, 1999-
War on Terrorism, 2001-2009
Afghan War, 2001-
Iraq War, 2003-2011
In addition, those U.S. citizen civilians who were actively involved in supporting war efforts (such as war industry workers, USO workers, flight instructors, medical volunteers, etc.) are also invited to share their valuable stories.
How did the Veterans History Project start?
The United States Congress created the Veterans History Project in 2000. The authorizing legislation (Public Law 106-380), sponsored by Representatives Ron Kind, Amo Houghton, and Steny Hoyer in the U.S. House of Representatives and Senators Max Cleland and Chuck Hagel in the U.S. Senate, received unanimous support and was signed into law by President William Jefferson Clinton on October 27, 2000.
AARP is the founding corporate sponsor of the Veterans History Project.  In addition to providing initial major funding for the Project, AARP also spread the word to its legion of volunteers and almost 37 million members, encouraging them to get involved.  Numerous state chapters have also been involved in the Project.
The Veterans History Project is made possible by the generous support of the United States Congress.
Anyone interested in being interviewed, please contact Mr. Chris Cremean, United States Vets, Inc. at 419 206-59979 or [email protected]