"Veterans can now get exclusive travel deals and discounted rates through American Forces Travel.
As of July 2021, all Veterans with a discharge status of honorable or general under honorable conditions are eligible to shop for a wide selection of discounted rates on hotels, air fare, rental cars, vacation packages, cruises and much more on www.AmericanForcesTravel.com.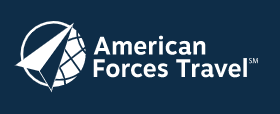 American Forces Travel is the Department of Defense's official Morale, Welfare, and Recreation (MWR) platform offering bookings for leisure travel. A portion of all bookings go back to support military quality of life programs. Members can feel confident knowing that their purchases are helping to fund events and activities made just for them.
Structured by Priceline, AmericanForcesTravel.com offers deals up to 50% off hotels to eligible members. With flights from all major airlines and split ticket options, to rental car savings up to 35% and best price guarantee, AFT has travel options for any mode of travel. Customers can also save when booking two or more products together using the Packages feature for flights, rental cars, or hotels.
For more information, visit www.americanforcestravel.com/. Members can also follow www.facebook.com/AFTMWR to message the AFT Team about login and pre-booking questions."

Article from the Veterans Benefit Newsletter May 2022.